Description
VIKING PROTEIN CHISEL
Viking Protein Chisel is a quality Australian made protein powder and supplement that is specially formulated for muscle tone and weight loss. It is perfect for the modern day warrior who wants to trim up and get that real "Chiseled" look. With over 30 grams of protein per serve, Chisel builds lean muscle while the added supplements & amino acids help burn fat.
SUGGESTED USE:
Mix 1 scoop (40g) in 200-300ml of water & stir well.
Highly recommended immediately post-workout.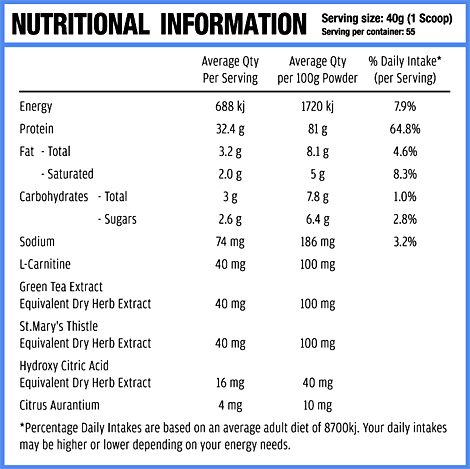 * These statements have not been evaluated by the Food and Drug Administration. This product is not intended to diagnose, treat, cure, or prevent any disease.

Megaceuticals makes no therapeutic claims of this product. Therapeutic is defined by the Australian Therapeutic Goods Administration (TGA) as:
Preventing, diagnosing, curing or alleviating a disease, ailment, defect or injury in persons or animals; or
2. Influencing, inhibiting or modifying a physiological process in persons or animals; or
3. Testing the susceptibility of persons or animals to a disease or ailment; or
4. Influencing, controlling or preventing conception in persons; or
5. Testing for pregnancy in persons; or
6. the replacement or modification of parts of the anatomy in persons or animals