Description
Platinum Labs OptiBurn AMPED
Platinum Labs is rated as one of the best supplement brands in Australia. Their killer fat burner 'OptiBurn' has the complete package with all the key ingredients working together to burn those stubborn body fats.
Key Ingredients:
200mg Raspberry Ketones
2000mg Acetyl L-Carnitine
250mg Green Tea Extract
CLA
African Mango Extract
Thermogenesis is the process of boosting the body's MR (Metabolic Rate) and proof that a thermogenic fat burner is working is because you begin to feel warmer than usual as your body literally begins to burns fat!
The complete list of thermogenic ingredients in OptiBurn is second to none and you will feel their effects within minutes of taking it.
Appetite Suppressant
What are considered the most dreaded aspect of dieting? Food cravings! OptiBurn has advanced appetite suppressants that control hunger cravings throughout the day, making sure you're only eating the food you want without craving all the naughty snacks between meals!
Advanced Energy
At Platinum Labs we know you need to power through your day and also your workout, which is often particularly challenging when dieting. The energy that OptiBurn provides is a strong, sustained energy that will last 6-8 hours without jitters or crash like other stimulant fat burners.
Shred stubborn water
There is nothing worse than water bloating that may come about through diet, stress, medications or the hormonal cycle. OptiBurn contains natural diuretics to emphasise how lean you are without being cheated by the bloat!
Mood Enhancer
OptiBurn is the first ever fat burner to contain Indian Lotus. This herb has been used for thousands of years to treat many ailments throughout the East, and brewed in a tea promote general well-being and euphoria. This is the secret to the unmistakable "OptiBurn feel" that all our customers have been raving about! Use Optiburn to amp up the fat burning process now!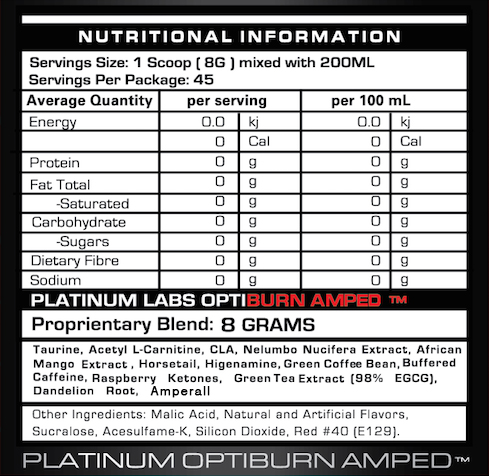 * These statements have not been evaluated by the Food and Drug Administration. This product is not intended to diagnose, treat, cure, or prevent any disease.

Megaceuticals makes no therapeutic claims of this product. Therapeutic is defined by the Australian Therapeutic Goods Administration (TGA) as:
Preventing, diagnosing, curing or alleviating a disease, ailment, defect or injury in persons or animals; or
2. Influencing, inhibiting or modifying a physiological process in persons or animals; or
3. Testing the susceptibility of persons or animals to a disease or ailment; or
4. Influencing, controlling or preventing conception in persons; or
5. Testing for pregnancy in persons; or
6. the replacement or modification of parts of the anatomy in persons or animals