Description
Body War Nutrition WarTropin
Body War Nutrition has released their new product WarTropin. Body War Nutrition WarTropin is the solution to your elusive sleeping patterns whilst increasing growth hormone release.
The WarTropin will help to enhance deep, more restful sleep and to promote the release of of the body's natural hormonal compounds for health neurotransmitter support.
What's the downside to bad sleeping patterns?
Sleep deprivation can lead to serious health problems
Lack of sleep kills sex drive
Sleepiness is depressing
Losing sleep can make you gain weight
Loss of sleep impairs judgement
Don't suffer with bad sleep, get on War Tropin today!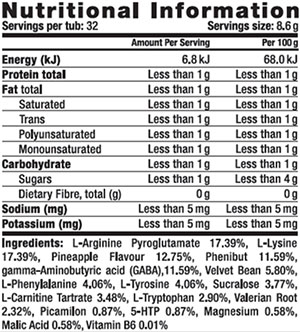 * These statements have not been evaluated by the Food and Drug Administration. This product is not intended to diagnose, treat, cure, or prevent any disease.

Megaceuticals makes no therapeutic claims of this product. Therapeutic is defined by the Australian Therapeutic Goods Administration (TGA) as:
Preventing, diagnosing, curing or alleviating a disease, ailment, defect or injury in persons or animals; or
2. Influencing, inhibiting or modifying a physiological process in persons or animals; or
3. Testing the susceptibility of persons or animals to a disease or ailment; or
4. Influencing, controlling or preventing conception in persons; or
5. Testing for pregnancy in persons; or
6. the replacement or modification of parts of the anatomy in persons or animals
Save