Description
Body War Nutrition Mass War
Body War Mass war is a comprehensive and powerful natural boosting testosterone product that may assist you in reaching your goals. Mass War can be used to naturally energise your development.
Supports Endurance and Stamina
Supports Energy and Vitality
Mass War can be used to naturally and safely energise your development. This supplement is not suitable for children under 15 years of age (store this product safely). Do not use if you are pregnant or breastfeeding.
It should only be used under medical or dietetic supervision.
Mass War is not a sole source of nutrition and should be consumed in conjunction with a nutritious diet and exercise program.
Take one tablet as one serving with 250ml water two times a day.
Do not have more than two servings per day.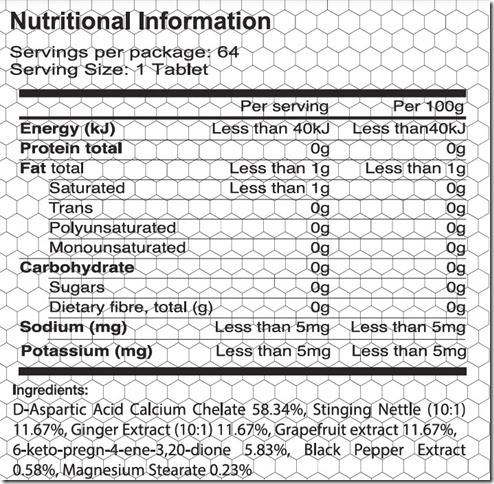 Will Require Post Cycle Therepy either Form X or Liquid Formadrol will suffice
Will return a positive Drug test under WADA regulations !!!
* These statements have not been evaluated by the Food and Drug Administration. This product is not intended to diagnose, treat, cure, or prevent any disease.

Megaceuticals makes no therapeutic claims of this product. Therapeutic is defined by the Australian Therapeutic Goods Administration (TGA) as:
Preventing, diagnosing, curing or alleviating a disease, ailment, defect or injury in persons or animals; or
2. Influencing, inhibiting or modifying a physiological process in persons or animals; or
3. Testing the susceptibility of persons or animals to a disease or ailment; or
4. Influencing, controlling or preventing conception in persons; or
5. Testing for pregnancy in persons; or
6. the replacement or modification of parts of the anatomy in persons or animals